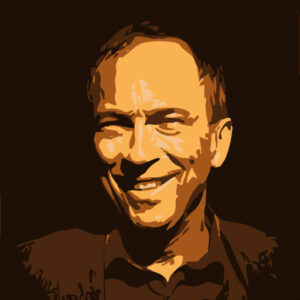 Painter and digital artist, born and living in Paris
To define my painting: Figurative – Flat – Colors – Lights – Shadows. You should find these characteristics in almost all of my paintings.
I'm attracted by the beauty of the world and I try to reflect it with nice shapes and colors on canvas.
Self-taught, I paint for 30 years and I exposed in several Parisian or south of France (Aix en Provence, Nice,…) galleries (see below).
I do also digital art based on my paintings, my photographs or my imagination.
They are available for sale as NFTs in Marketplaces like Voice or Foundation.
Exhibitions:
2022/2023 Marché de l'Art – Saint-Germain en Laye – France

2022/2023 Nuit des Artistes – Saint-Germain en Laye – France

2021-2023 Le repère des Belettes, Saint-Germain en Laye – France

2021 Journées du patrimoine, Saint-Germain en Laye – France

2021 Marché de l'Art, Saint-Germain en Laye – France

2019 Galerie Atelier Pièce Unique – Fourqueux near Saint-Germain en Laye – France

2016 Galerie Linda Farrell – Paris – France

2014 Salon des amis des arts – Colombes – France

2013 Salon des créateurs – Colombes – France

2013 Galerie La Valse – Marais – Paris – France

2011 Galerie Olivari – Montparnasse – Paris – France

2006 Chez Rémi et Gabi – Paris – France

2006 Galerie de Médicis – Place des Vosges – Paris – France

2005-2006 : Galerie ArtClub, Rue de Rivoli – Paris – France

2005 Galerie ArtupDéco – Tokyo – Japon

2004 Hype Gallery au Palais de Tokyo – Paris – France

2002 – 2004 Galerie ArtupDéco – Paris – France

2003 Festival de Cannes – Club de la caméra d'Or – Cannes (06) – France

2003 Chez Pascal – Malakoff (92) – France

2002 Habitat – Vallauris (06) – France

2001 Plasma Café – Nice (06) – France

2000 Hôtel Les Deux Frères – Roquebrune Cap Martin (06) – France

2000 Galerie Hélios – Nice (06) – France

1997 La Gourmandise – Istres (13) – France

1995 Salon de Printemps – Martigues (13) – France